Bio-Tech Division :

Background :
In the 18th century, farmers were implementing selection methodologies to bring about improvements in agriculture. In later stages, plant breeding played a crucial role for further advancement. Now, in the beginning of the 21st century, Biotechnology has been tremendously changing the face of agriculture not only by means of its advantages over conventional breeding, but also through its high output sensitive techniques. Biotechnology played a vital role to trace out the problems in all areas of agricultural production and processing that includes plant breeding to increase yield of commercial traits, to develop resistance in plants against various diseases caused by biotic and abiotic stresses. Besides that, biotechnological tools such as molecular biology, genetic engineering and plant tissue culture were found to improve the nutritional content of foods .
NSPL admires the importance of biotechnological tools. This is why, NSPL incepted its own Biotechnology Division in the year 2002.
Introduction :
The Bio-technology division is a full-fledged department that gives great attention towards research in the development of crops with improved traits. Research and development in the department mainly deals with three biotechnological aspects i.e. Molecular biology, Genetic engineering and Plant tissue culture.
Molecular Biology: – PCR, ELISA, RT-PCR, These facilities were utilized in the development of biotic and abiotic stress tolerant crops by Marker Assisted Breeding (MAB) programme.
Genetic Engineering: – RNAi, Agrobacterium mediated Gene transformation RNAi technology based on gene silencing and Agrobacterium mediated Gene transformation methods were used for the development of microbial disease and insect pest resistant crops.
Plant Tissue Culture: – Micropropagation, Anther/ microspore culture Micropropagation of banana, pomegranate and other elite crops as well as anther and microspore culture is used to develop Di-haploid plants.
On the basis of aforementioned facilities, the Bio-Technology division has been recognized by North Maharashtra University, Jalgaon as a Post-graduate Research Center, where young researchers of biotechnology will carry out their doctoral programme. The Biotechnology division imparts trainings to Biotech students under the Biotechnology Industry Training Programme (BITP). This training being employed in view of capacity building, it provides a platform for research students to build up their carrier in the Biotech field.
Along with that, facilities of our department has also been approved and recognized by DSIR, Ministry of Science and Technology, New Delhi. Our Plant Tissue Culture Laboratory has NCP-TCS recognition for banana and pomegranate tissue culture.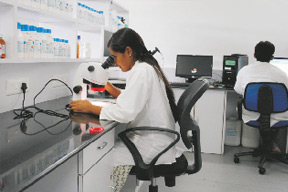 Bio Input Division :

'Agri biotech for Healthy Nation' :
Our Bio Input Division is exploring various advanced agri-biotechnological process for the development of eco-friendly bio-organic inputs. We are constantly engaged in research, development, production and marketing of various bio-organic inputs like Plant growth vitalizers, Bio soil enrichers, Bio pesticides, Bio fertilizers and Organic manures.
Our organic products "Bio Power" and "Bio Force" have received "Process Patent" from the Government of India. Our ultra-modern manufacturing facilities located at Pachora and Guwahati ensures supply of quality inputs to the farming community of the country.
This Bio input division has also made research tie-ups with the institute of national and international repute for development of unique and innovative bio-organic inputs for sustainable agriculture.
Recently, our company has made a research tie-up with 'The Energy and Resources Institute' (TERI), New Delhi, for hygienic production of granular mycorrhizal bio fertilizer by patented "Root Organ Culture" Technique.
Now the company is in process to establish 'high-tech class 10000' laboratory facilities for mycorrhizae multiplication.